Please let us know what we can do for you. We welcome your questions.
Enquiries@tlcfss.org
03 6128 3363
TLC First Support Service Core Values
 We believe in empowering our participants and motivating them to develop and maintain an independent lifestyle.

Providing our participants with quality service and care is our top priority.
Our aim is to empower all participants to live a happy and independent life.
We have qualified staff to inspire confidence in our participants.

We take the social growth and development of our participants very seriously.
TLC First Support Services has SIL Vacancies Available in Tolosa Street Glenorchy Tasmania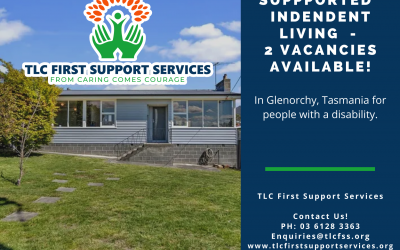 TLC First Support Services has 2 Supported Independent Living Vacancies Available for people with a disability in Glenorchy Tasmania. Contact: Email...
We are soon to open our Supported Independent Living property in the Claremont area. The propery will be 4:1 with a sleepover staff.  Please contact...